De rol van Psalm 23 in de popmuziek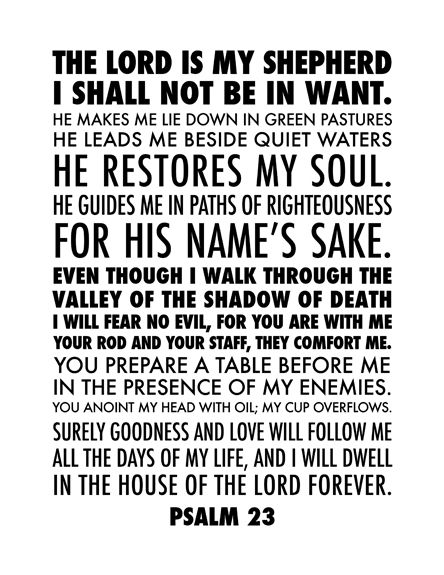 Bob Marley werd begraven met zijn rode Gibson gitaar, voldoende wiet voor 'onderweg' en een opengeslagen Bijbel bij Psalm 23.
De 23e Psalm is het meest geciteerde Bijbel-liedje in de popmuziek. God wordt in het eeuwenoude lied vergeleken met een herder en zijn mensen als schapen. De hemelse herder zorgt voor voedsel, bescherming (in het dal van de diepe duisternis) en groene weiden voor de mensen die op hem vertrouwen. De tekst van de herder-koning David is drieduizend jaar na dato nog steeds geliefd. Zowel binnen als buiten de kerk. Nu is het wel zo dat de meeste muzikanten de song flink in de remix gooien.
Rappers vergelijken hun postcodegebied met het dal van de diepe duisternis (Cooli, Kayne West e.a.), Bono gooit in de song 'Love Rescue me' zijn herdersstaf in de hoek (worstelt de zanger met zijn Messiascomplex?) en Pink Floyd gebruikt de Psalm om ons te waarschuwen voor de gevaarlijke leiders waardoor we ons zo vaak als een stel makke schappen laten leiden. De psalm is voor popmuzikanten zowel een bron van inspiratie als irritatie. En dat is niet nieuw, als in 586 voor Christus Jeruzalem compleet in puin ligt, dan lijkt de dichter van het Bijbelboek Klaagliederen (Klaagliederen 3: 1-6) Psalm 23 ook in de remix te gooien.
Check zelf via de Spotify afspeellijst 'Heilige Herrie – Psalm 23′ of je uit de voeten kunt met eigentijdse versies van David's klassieker, zoals:
Coolio – Gangsta paradise
Bobby McFerrin – The 23d psalm
Frenna, BLØF – Regen
Kanye West – Jesus walks
Lenny Kuhr – Psalm 23
U2/ Bob Dylan – Love rescue me
Pink Floyd – Sheep
2Pac – So many tears
NAS – My Bible .
ZHustlers – The Jay is my shepherd
Calvin Harris ft. Travis Scott – Prayers up
The notorious B.I.G. – You're nobody till somebody kills you
Marilyn Manson – In the shadow of the valley of death
Megadeth – Shadow of death
Jay-Z ft. Justin Timberlake – Holy grail
Alice in Chains – Sickman
Jay-Z / Eminem – Rabbit run
W.A.S.P. – Live to die another day
Mark Knopfler – Baloney again
The Hooters – I'm alive
Peter Tosh – Creation (Jay is my keeper)
Een uitgebreide casestudy over de rol van Psalm 23 vind je in het boek 'Heilige Herrie – geloven in de popmuziek'.