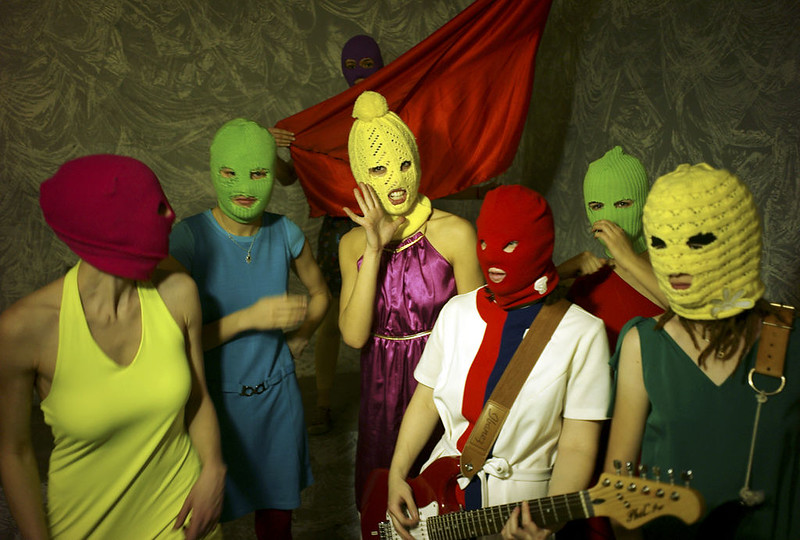 'Misschien dat je het nog op je netvlies kunt halen, de muzikanten uit Rusland met de gekleurde bivakmutsen over hun hoofd. De beelden bereikten ook het NOS-journaal in Nederland. Hoofdrolspelers zijn de muzikanten van Pussy Riot, een relatief onbekend punkbandje dat zichzelf heeft vernoemd naar de Riot Grrrls, een feministische underground punkbeweging uit de jaren negentig. De meiden van de punkband beklimmen op 21 februari 2012 het altaar van de belangrijkste Russisch-orthodoxe kerk in Moskou om te protesteren tegen het regime van Poetin.
Ze starten na het slaan van een kruisje gedreven hun punksong Holy Shit, waarin hun gebed aan de heilige moeder klinkt: 'Wees gegroet, Maria, verjaag Poetin!' Het wordt een memorabel, maar vooral kort optreden, want na veertig seconden worden de vrouwen al door beveiligers opgepakt en afgevoerd. Nadat ze een filmpje van het gebeuren op YouTube hebben gezet, worden drie van de vijf bandleden opgepakt en in een werkkamp opgesloten. De internationale gemeenschap reageerde geschokt, artiesten als Sting en Madonna verklaarden zich solidair met Pussy Riot. Madonna droeg bijvoorbeeld demonstratief de naam van de band op de achterkant van haar T-shirt tijdens een concert in Moskou. De vrouwen zouden uiteindelijk na een kleine twee jaar vrijkomen.
St. Maria, Virgin, Drive away Putin
Drive away! Drive away Putin!
Black robe, golden epaulettes
All parishioners are crawling and bowing
The ghost of freedom is in heaven
Gay pride sent to Siberia in chains
The head of the KGB is their chief saint
Leads protesters to prison under escort
In order not to offend the Holy
Women have to give birth and to love
Holy shit, shit, Lord's shit!
Holy shit, shit, Lord's shit!

St. Maria, Virgin, become a feminist
Become a feminist, Become a feminist
Church praises the rotten dictators
The cross-bearer procession of black limousines
In school you are going to meet with a teacher-preacher
Go to class – bring him money!
Patriarch Gundyaev believes in Putin
Bitch, you better believed in God
Belt of the Virgin is no substitute for mass-meetings
In protest of our Ever-Virgin Mary!
Wat bezielde deze vrouwen om de Christus Verlosser-kathedraal binnen te rennen? In 2017 blikt bandlid Nadja Tolokonnikova terug op de actie: 'Het was een protestactie tegen de herverkiezing van Poetin en de verwevenheid van de seculiere staat en de orthodoxe kerk' (de patriarch had Poetin een 'wonder van God genoemd'). Ik ging er, een beetje onnozel misschien, van uit dat deze idealisten wel antireligieus zouden zijn, maar dit blijkt toch net wat anders te liggen. Nadja: 'Artiesten zijn het aan God verplicht om standpunten in te nemen over verboden onderwerpen. Wij zijn daarom niet zozeer een vijand van de orthodoxe kerk. Maar ik houd er niet van als politici religie gebruiken om hun vuile doelen te bereiken. In zijn algemeenheid denk ik dat religie een belangrijke manier is om vrijheid tot stand te brengen in de maatschappij.'
Soms moet er op de deur van de religieuze instituten geklopt worden omdat ze de weg flink kwijt zijn. (…) De vreselijke daden die christelijke slavenhandelaren, soms met hun hand op de Bijbel, hebben gedaan zijn op geen enkele manier goed te praten. Kerkleiders gaan soms flink de mist in. Het is niet voor niets dat Pussy Riot in actie kwam. Als een kerk gaat samenspannen met een dictator als Poetin, dan moet er iemand de (kerk)klokken gaan luiden, toch?
Een deel van deze tekst komt uit mijn boek 'Heilige Herrie. Geloven in de popmuziek'. In dit boek lees je nog veel meer over protestsongs en religie.
De onderstaande song 'punk prayer' is van de artiest Moddi, hij schreef 'punk-prayer' n.a.v. de actie!